Free preschool program
Area Five Head Start provides free preschool in Cass, Fulton and Wabash counties. Head Start accepts children regardless of race, gender, color, creed, national origin or Special Needs. Eligibility for enrollment is based on the child's age and family income.
Area Five Head Start is currently taking applications for Bus Drivers
If you are interested, please stop by Area Five Agency for an application or call 574-722-4451 for more information.
Part-Time
Work schedule is family friendly and flexible
Weekends, major holidays, summer time and evenings off
We assist with trainings and professional development opportunities
---
We are currently taking child applications for the school year!
Any child turning 3 years old by August 1 is eligible to attend Head Start.
If you are interested in filling out an application for your child, please call one of the phone numbers below to make an appointment.
For Fulton County, please call (574)-223-4994
For Cass County, please call (574)-722-4451
For Wabash County, please call

(260)-563-5666 for our Wabash Site
(260)-982-7885 for our Laketon Site
At your appointment to fill out the application, please bring the following:
Child's birth certificate
Child's shot record
Any important documents (Custoday Papers, IEP, allergy, asthma, etc.)
Income information (current pay stub and last years W2 or tax form, SSI or Child Support documentation if applicable)
---
About Area Five Head Start
Area Five Head Start is a preschool program offered four days a week August-May. Our curriculum is aligned with Indiana's Early Learning Development Framework and Indiana Academic Standards. In addition to education, Head Start also provides:
Hot breakfast and lunch
development assessments
Individualized teaching
Parent involvement opportunities
Family support with resources
Speech & hearing evaluations
School readiness skills
Head Start Recruitment Poster (English) -- Cartel de reclutamiento de Head Start (Español) -- Annual Program Report
---
The expectation is that parents will participate in the program at all levels, including donating time to help the program. It is important to review and understand our Head Start center policies on transportation, curriculum, and more.
Parent InformationHead Start Policies
---
"Grandpa Jay", a volunteer at Head Start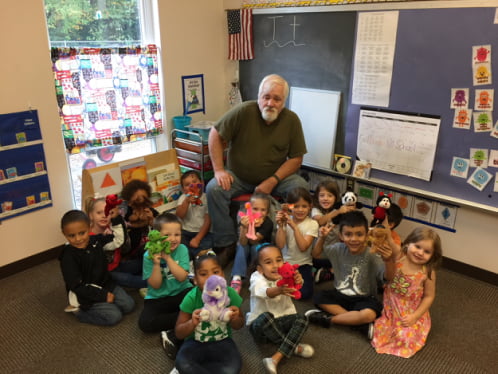 To apply for Head Start, visit your nearest participating location:
Additional Head Start Resources: